Floor signage is not one of the most popular ways of instructing staff and visitors in respecting the safety regulations in place but is gaining momentum in recent years.
You might come across 'floor signs', 'floor markers', 'floor marker signs', 'adhesive floor signs' and many more but they are all the same. The product is a self-adhesive vinyl sticker designed to be applied on the floor. Floor markers can be applied on a variety of smooth, clean surfaces including office carpets. When applied on carpets they won't last as long but for temporary use they will be a great visual reminder.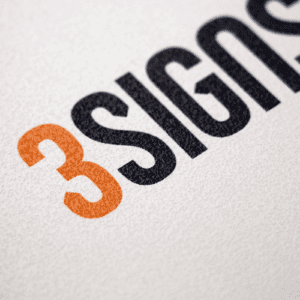 Most, but not all, floor sign have an anti-slip texture; this makes them great for placement in high traffic areas without the risk of accidents. Other floor signs can have the print area laminated with an anti-slip matt laminate; the anti-slip efficiency is the same but lamination is a must if solvent inks are used in the printing process.
At 3 Signs we use latex inks; these inks are very durable and our prints do no require lamination.
Floor signs are used in the whole spectrum of safety signage: Mandatory signs, Fire Safety signs, Warning Signs, Hazard Signs and much more. Like any safety sign they can carry different symbols and message depending of the use.
We offer a selection of floor signs but if bespoke signage is needed please get in touch!