Food preparation area Sign, Health and Safety Mandatory Kitchen Hygiene signs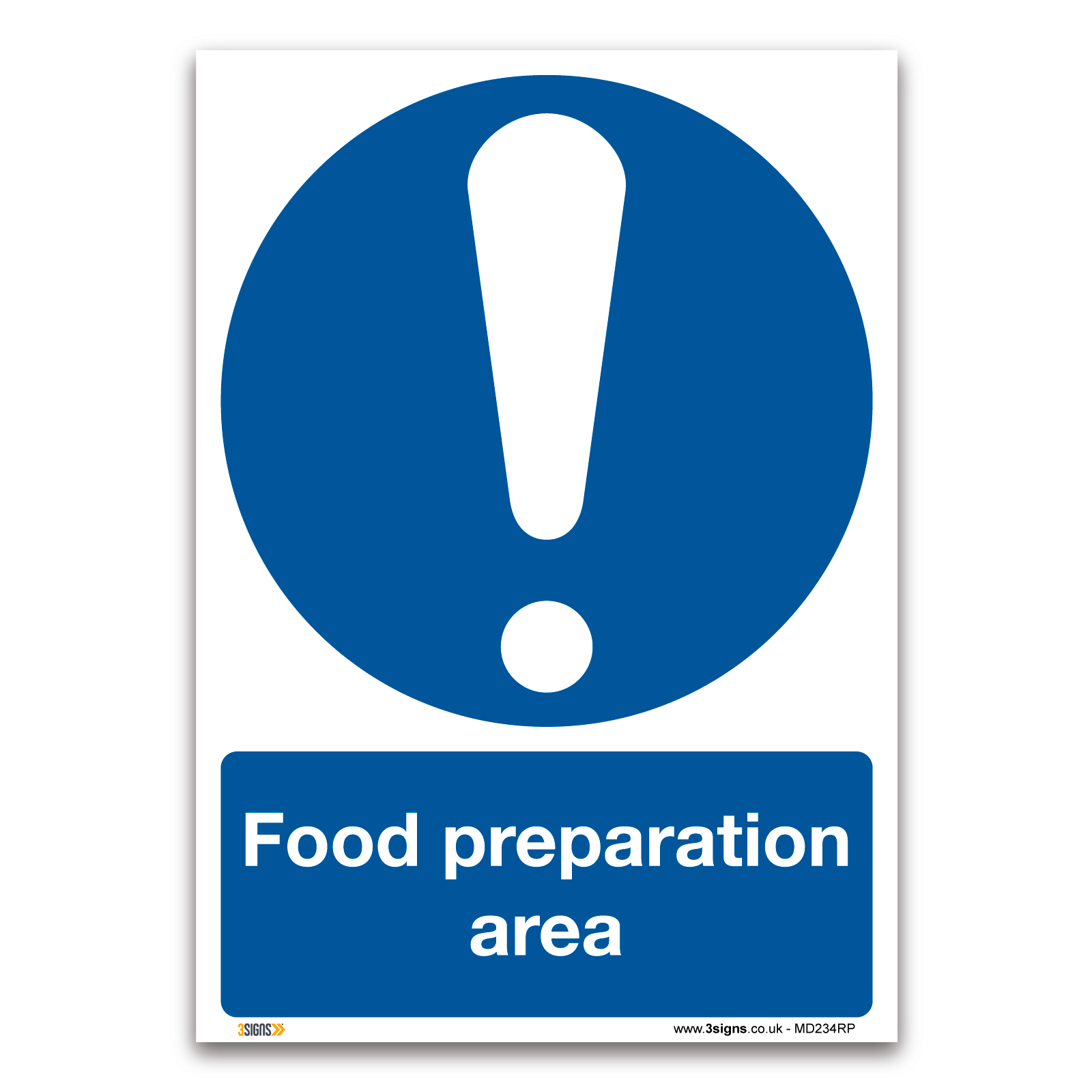 Description
Food preparation area sign. Employers have a duty to reduce workplace risk to the lowest reasonably practicable level by taking preventative measures. Employers must work with any other employers or contractors sharing the workplace so that everybody's health and safety are protected.
Safety signage is an easy and efficient way of informing staff, visitors or customers of all potential risks. Amongst them but not restricted to:
any potential hazardous risk,
prohibited areas or actions,
mandatory actions that must be taken,
indicates exits in case of emergencies or fire
instructs staff and public of correct evacuation
indicates first aid locations
All signage produced by 3 Signs complies with the latest EU and UK legislation, including BS EN ISO7010. That means the colours and symbols displayed on the safety signs are easy to recognize by most people without the need of fully read the sign.
Safety signs must be displayed visibly in high traffic areas to have the biggest impact possible.
---
For custom requirements just get in touch and one of the graphic designers will be glad to help*.
*custom artwork subject to a minimum order value of £50.
Food preparation area sign – Clearly inform all staff and visitors that this is a food preparation area and hygiene rules should be respected.
Mandatory safety signs are available in a wide range of sizes to suit the distance of viewing
All signs are suitable for indoor and outdoor use when applied to smooth, dry clean surfaces.
Signs and symbols comply with current EU and UK legislation, including BS EN ISO 7010.
Quantity

Price Each

3 - 5

10%

£

3.59
6 - 11

15%

£

3.39
12 - 23

20%

£

3.19
24 - 99

25%

£

2.99
100 +

33%

£

2.67